On the 23rd of April, we went to London to watch Les Miserables at the Sondheim Theatre. Since Blake has wanted to meet a friend in Paris for a long time, we thought of booking a train there for Sunday morning and visiting the French Capital.
Before the trip
We booked more or less twenty days in advance, and the train tickets came to £298 return for two people. The flights would have been cheaper, but we thought the train would be more convenient. It only takes 2 hr 16 mins, and it gets you to Gare du Nord, in the heart of Paris. The only other thing we booked early was the accommodation. We will be staying at the Hotel d'Espagne, which Viola and Paolo, our friends from Italy who will also be in Paris Monday to Wednesday, have chosen and looks nice. Last but not least, one week before leaving, we booked (well, actually Paolo did, he's the real MVP in this story) a restaurant in Montmartre and the Musée de l'Orangerie. You should book a ticket for the museums you want to see as soon as you know the dates as, for example, the Musée d'Orsay was already sold out when we looked. You should also check the travel requirements from a Covid and Brexit point of view. Luckily it's all well explained on the gov website here.
Day 1 | Sunday - Gare du Nord, Montmartre, Arc du Triumph (feat. really sore feet)
We took the train from London St Pancras at 8:41 in the morning and got to Paris at 11:46 - the journey is only 2.16 hours, but there's a +1 hour of timezone to consider. There are no USB plugs on the train, so remember to bring your own plug (both French & UK ones work!). Rehan, Blake's friend, was waiting for us at Gare du Nord, and we went for a meal all together.
We took a quick tour of the nearby restaurants, ending up at
La Chaufferie
. We had steak with chips and tartare, accompanied by beers and red wine. They were delicious, and the price was more than reasonable.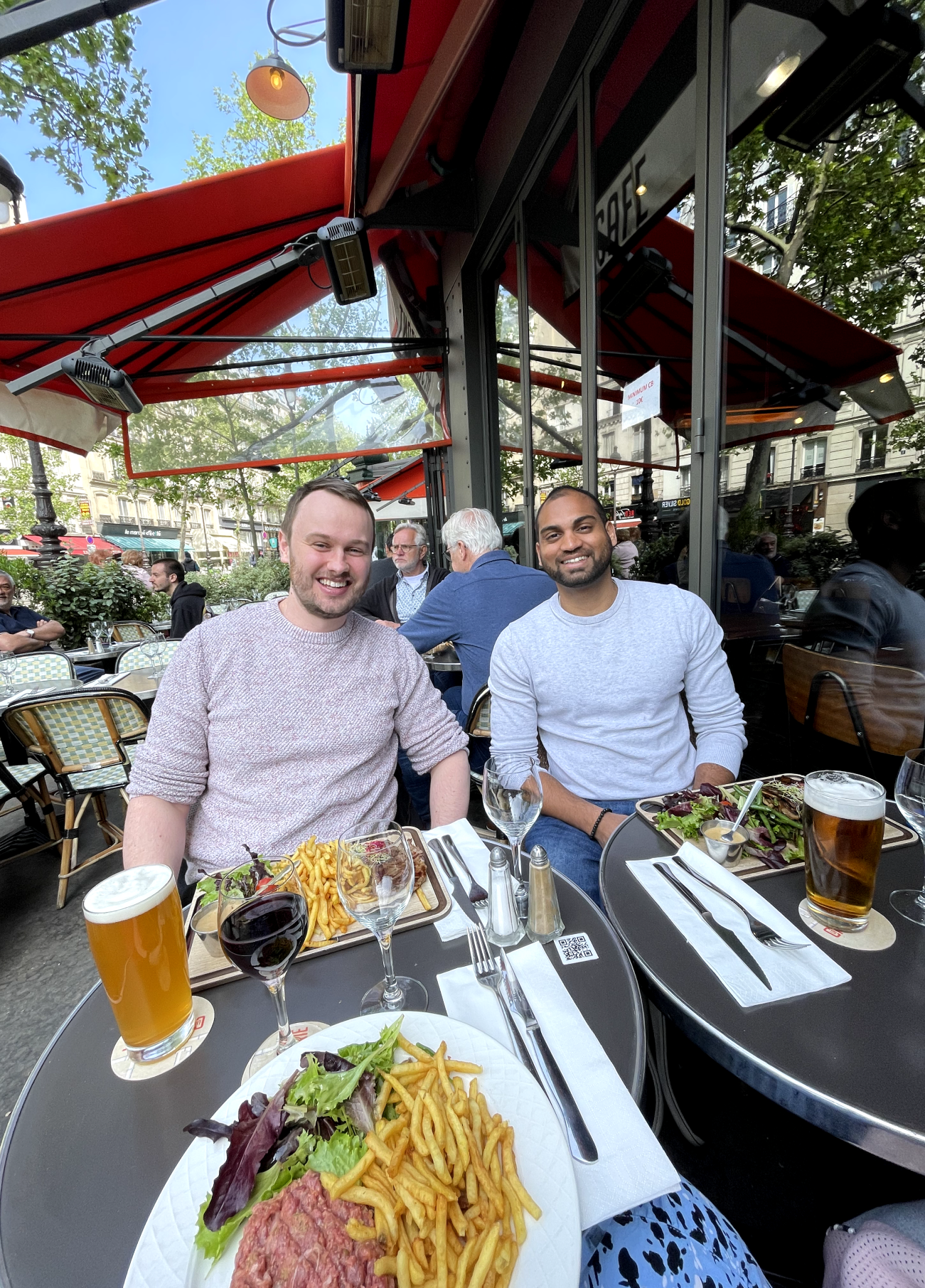 We then walked towards our hotel, the
Hotel d'Espagne
, which I would definitely recommend. It's in a great position, clean, and the people at the receptions were all lovely. They also allow you to leave your bags in a secured space before check-in and after check-out, and there are always complimentary treats and drinks at reception for you to enjoy (we did indulge in a couple - or a dozen - of pains au chocolate). It cost us 315 Euros for two nights with the city tax.
After a quick stop at the hotel, we started walking towards Montmartre. The walk to the top of the hill is as gratifying as tiring, as the view is fantastic from the Sacre Coeur. I wanted to see the pink house that Utrillo painted as I had it in my graduation thesis. However, it has apparently become a prime Instagrammable spot, so you need to brace yourself for a queue of girls dressed up head to toe in pink matching sets taking the money shots.
After strolling around there, we headed down towards the centre. We stopped for a charcuterie & fromage platter at
Le Bistrot de la Banque
, which we enjoyed on one of those very Parisian tables on the footpath.
Next step: Arc de Triomphe
We took the panoramic way towards the Arc and walked past Rue Montorgueil, which I had saved as one of the cute spots to walk by, and the Nelson Mandela Gardens. There are plenty of excellent little restaurants with various international and local cuisines on that street, and it is quite a pleasant walk.
If you're attempting the trek, remember to wear your most comfortable shoes. Even though Lonely Planet suggest you don't wear trainers so that you don't look like a tourist, I'd say that it's worth the risk! We walked past the Louvre (without going inside), through Les Jardins des Tuileries, and then to Place de la Concorde.
We walked the Champs Elysees and finally got to the big Arc. There were many people around, perhaps because it was elections day, and I discovered that you can actually go on top of the Arch - I had never known that before!
We stopped at
Le Marceau
, a typical brasserie where we had a burger and a cheese and ham omelette for dinner. £45 damage and a sigh of relief for Macron winning the elections. Not bad!
With our bellies full, and 27K steps in the bag, we opted for the metro on the way back. At the moment, masks are still compulsory on the metro and train, and two single tickets cost 3.80€. You can buy the ticket at the machines within the station.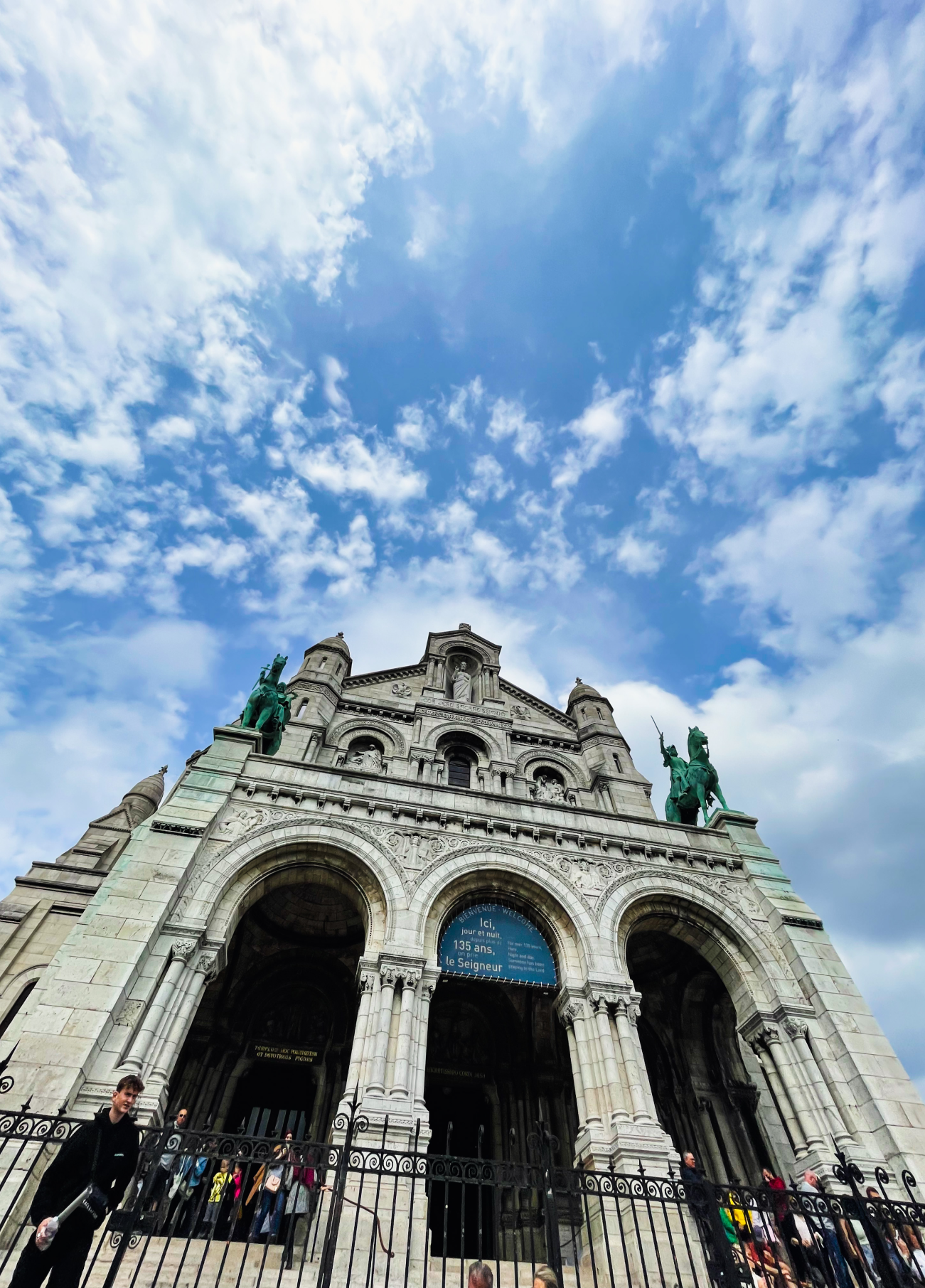 Day 2 | Monday - Le Marais, Musee de l'Orangerie, Le Refuge du Fondues
I'm sorry to my fellow millennials; we did not live life fully. We dreamed of waking up early and enjoying the sunrise somewhere fantastic, but instead, we snoozed and woke up at 9AM. We did have a cheery and refreshed face, though.
We waited for Viola and Paolo in the lobby, playing some table tennis, and then went for a delicious pain au chocolate and cappuccino at the Café next to our hotel. It was such a cute place. We loved the interior decor. We had a booking at 3:30PM for Le Musee de l'Orangerie, but we wanted to explore Le Marais and the Latin Quarter, so we strode in that direction and then hopped on the Metro when it was time.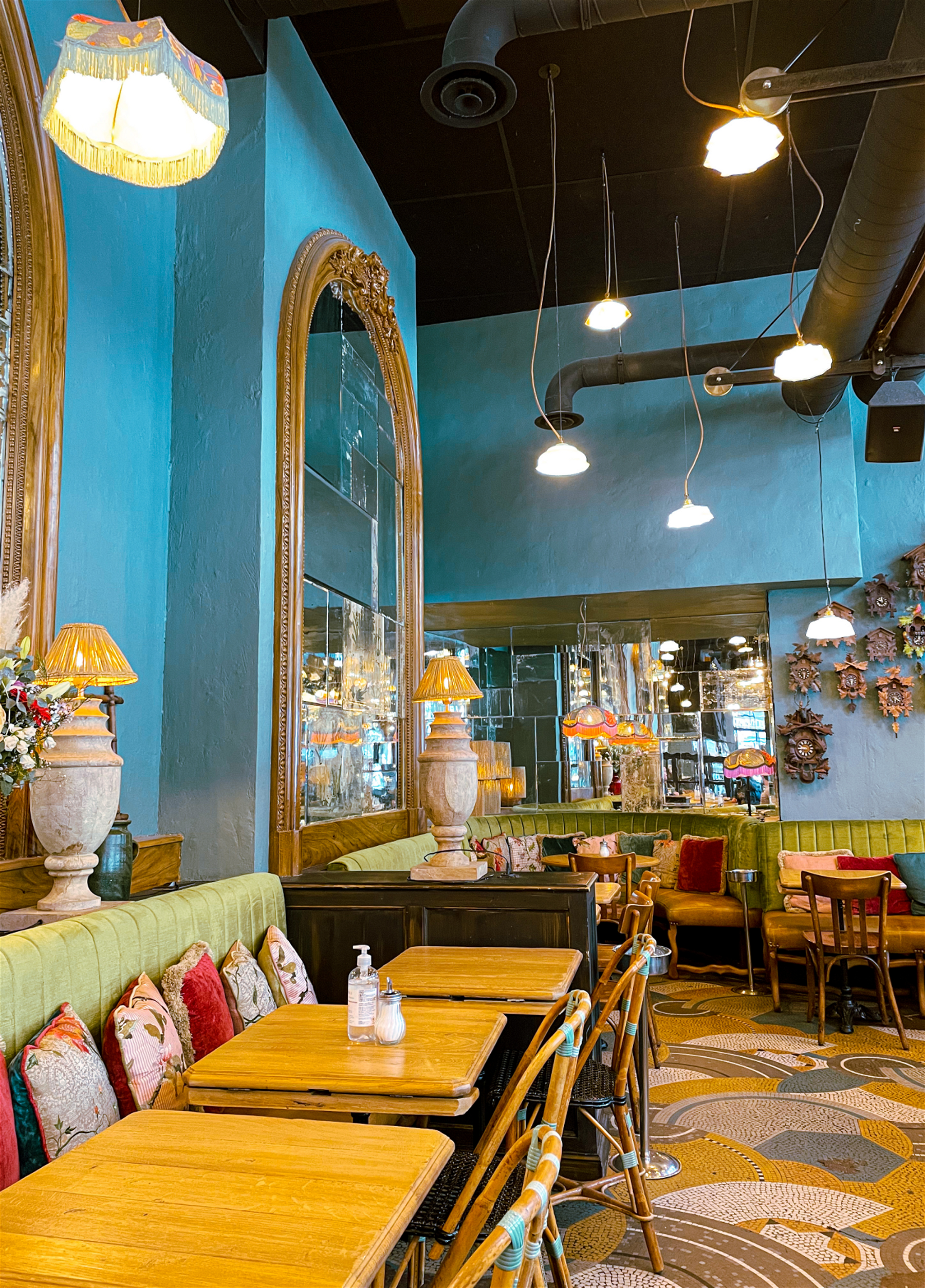 We walked through some charming buildings and stunning French architecture. A friend of Paolo suggested an excellent place for falafel in Le Marais. Unfortunately, there was a huge queue when we got there, the smell was incredible, though, and I would have loved to try them, so if you're around, don't miss them! We walked to the Centre du Pompidou and walked in just to look at the building, but we didn't have much time to visit it inside, so we just used the toilet and snooped around the book shop.
We were starving by then, so we googled eateries nearby and ended up in Glou, a great spot in front of a lovely garden, where we had a set menu with starter and main for 17 Euros. There was also an a la carte menu, and everything we had was exquisite and looked great - which is always a plus!
Happy and fed (as usual), we got the Metro to Concorde, a couple of minutes from Le Musee de l'Orangerie. Watch out for the trap we fell in: as soon as you walk through the gate, a crepe smell will attract you into the crepe shop the same as syrens would drag you into the sea. We fell for it, of course, and had a Nutella crepe for 6 Euros each.
The museum is outstanding, especially if you like impressionists and Monet, as the main event are the two rooms dedicated to the Nymphes. They were meant as a place dedicated to meditation, where you should sit and observe in silence, pondering on life. Unfortunately, too many people are talking, so that sentiment is gone, but it doesn't make the paintings less impressive.
I enjoyed Modigliani's, Utrillo's and Cezanne's paintings more, as those are my favourite artists, but there is something for every taste. It's also a lot smaller than other Parisian museums, so you don't have to dedicate a whole day to it if you don't want to, and you won't feel like you've missed out.
After a siesta back at the hotel, we were ready for a beautiful cheese heavy evening.
We got the bus to Montmartre, although we didn't really understand how to pay for the ticket with the phone. We stopped before the big Montmartre hill, which wasn't really in our plans, but we managed not to be too sweaty when we got to the top. Sunset from the Sacre Coeur makes the struggle worthwhile, and on top of that, we rewarded ourselves with a glass of wine in the artists' square. A little bit pricey, but ey, we love a busy square with people laughing and chatting and dancing.
Another gem that Paolo found was Les Refuge du Fondue. The place is as quirky as it gets and also quite clever. They made the most out of a really tiny place, transforming it into a very familiar/friendly place where you just get given what's on the menu without having too much choice, and you're tightly sat next to the strangers. It made me feel a bit like in summer food fests in the streets of Italy, which I really enjoy. The cheese was great, and so was the beef bourguignon, and we went a bit cocky and ordered one more, which was way too much. We got cheese sweats. The oddest trait is that they serve wine (red or white) in a baby bottle, which is apparently guaranteed to make you quite tipsy quite quickly - I can confirm that.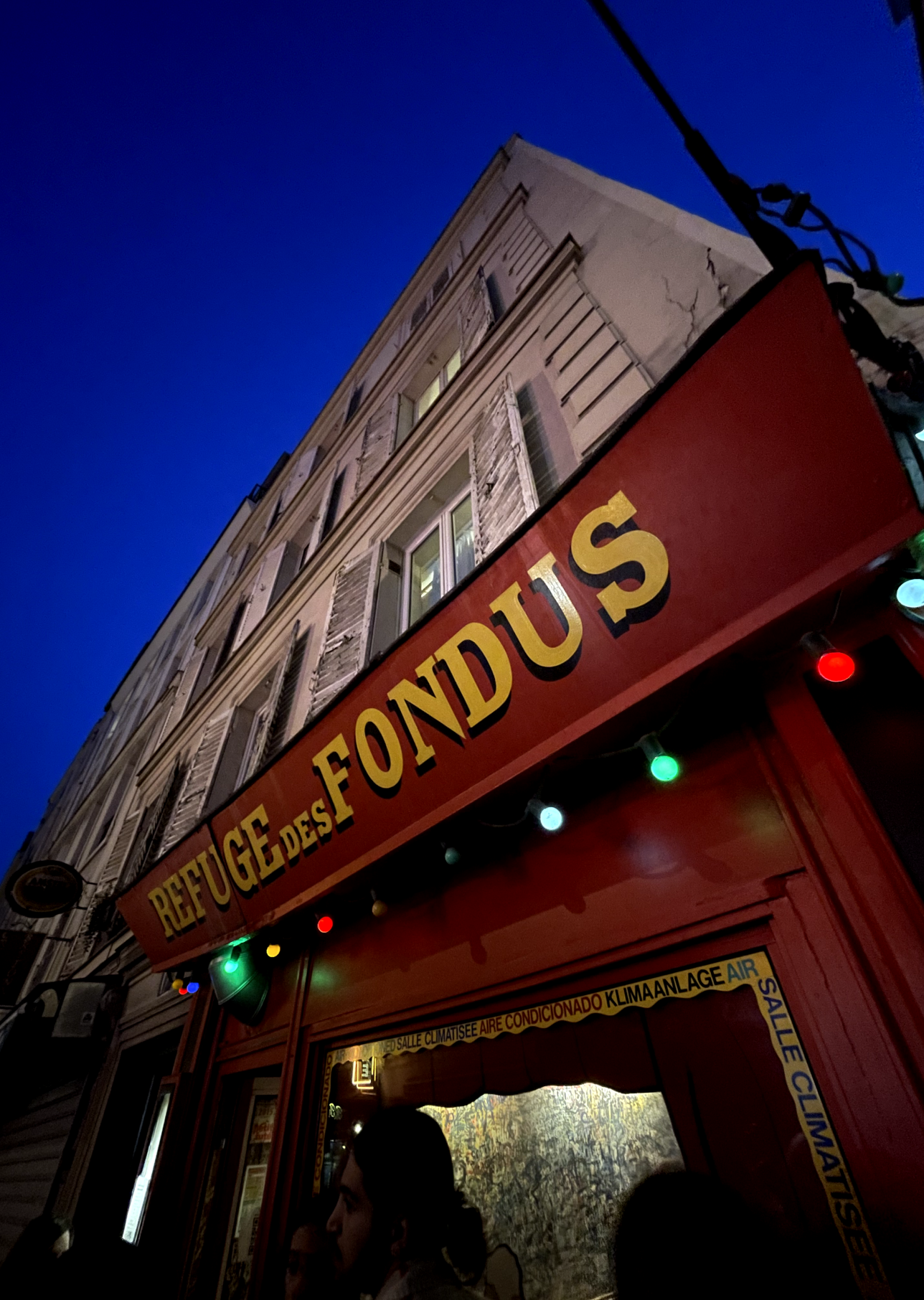 Day 3 | Tuesday - Rue Cler, Avenue Rapp, Tour Eiffel
We managed to dodge a hangover for our last morning in Paris, which was a huge win! Since we had just a couple of hours before catching our train back to London, we decided to check out a couple of streets I had marked as "authentic" and then checked in at the Tour Eiffel.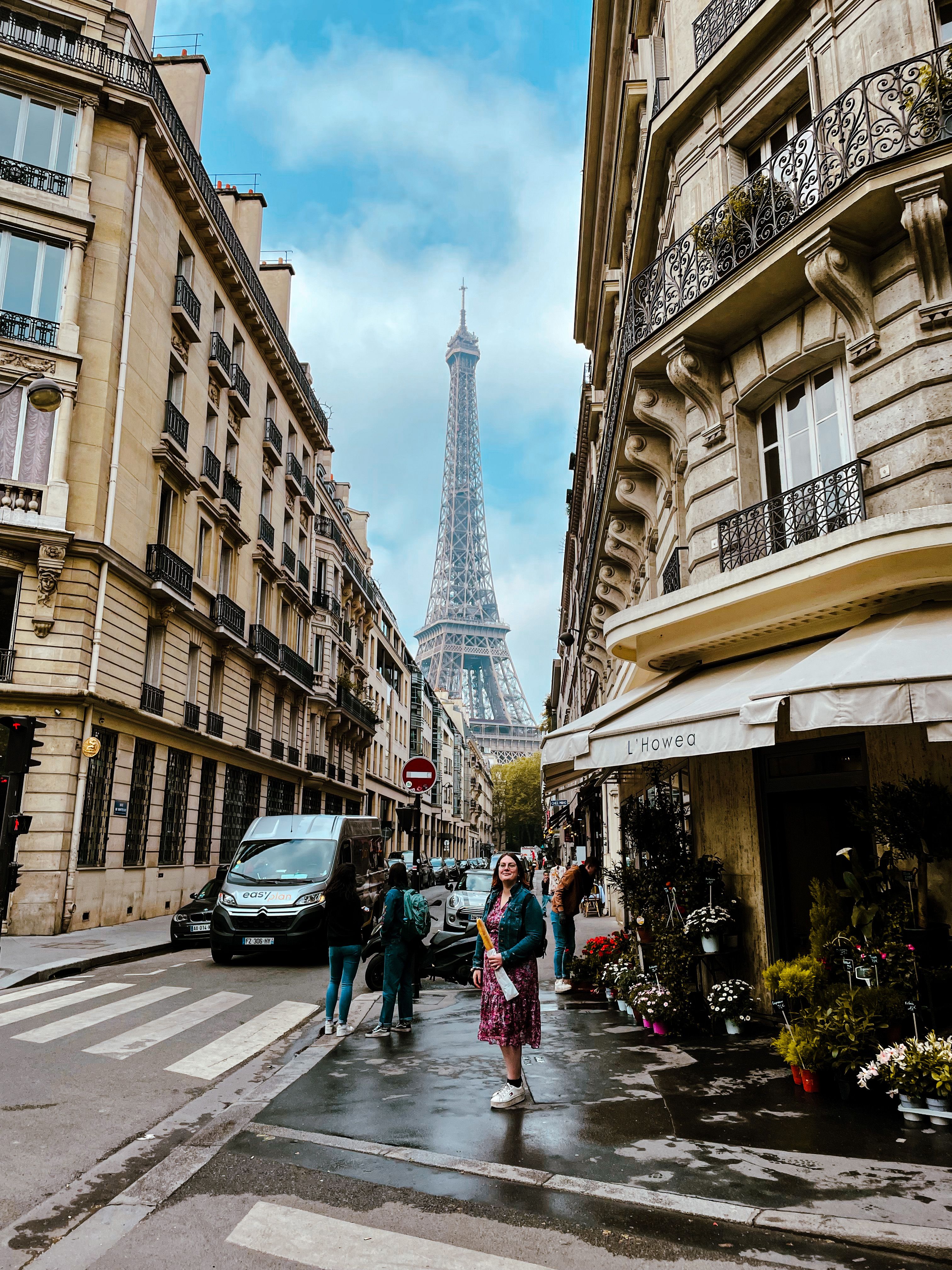 Pro-tip: if you walk through Rue Cler first, grab a baguette and some cheese from one of the many boulangeries on that road, and then stroll towards Avenue Rapp, you'll get a really scenic and local-like picture of yourself with the Tour Eiffel. If, like me, you are tempted to eat the baguette while walking, don't you worry. You can always just twist it around for Instagram's benefit.