Day 1: Riga
The first day of this holiday will be all about Riga, Latvia's capital, and a splendid city dominated by wonderful buildings and romantic alleys.
After landing at the airport, you'd have to get out (really?!) and look for the bus number 22 to get to the city centre.
There is plenty of indication and a newsagent which can give you all the guidance you need. A day ticket costs 5 Euros, while one way is 2 Euros. You can buy the one-way ticket both on the bus and at the newsagents.
As you can see in the picture below, there are other transports available, but the bus is the cheapest option and to be honest, the journey is pretty smooth. You get to see a few different parts of the city too.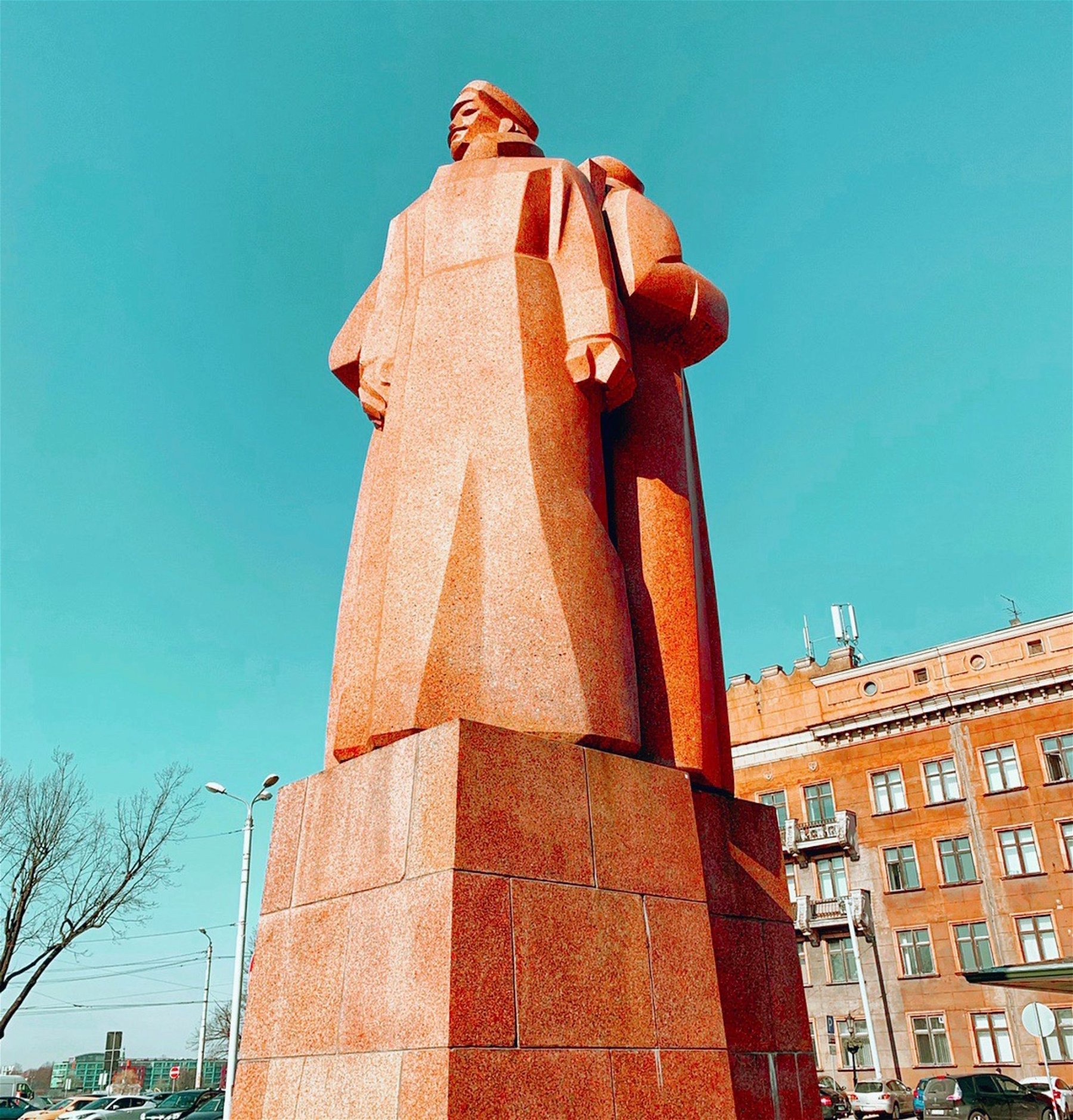 If you booked an Airbnb or Hotel in town, it will be easy to get there as everything is within walking distance. We stayed at the 
Old Town Residency
, a stunning apartment in the heart of Riga.
The cost of living is generally really low, although there are a few exceptions, so it's always worth looking at the menu before falling in the tourists trap.
We had lunch at 
Egle
, one of the gastro-pub in the square, where we got chilli con carne, roasted potatoes, pork tacos, fries, a pint of beer and a pineapple juice for a total of 28€ 
(£23.62 at the time of writing)
.
After lunch, we visited the more modern side of the city.
We stayed for more than an hour in a place called 
Apsara
 – which became 
one of our favourite spots in the world
.
They have a trillion different types of tea and you can slowly sip your cup while sitting down on some pillows and just watch the park and the world go by from huge windows. I tried a citrus green tea, while Blake had a cappuccino and a cake. You should go there if you visit, it's something different.
There are a lot of bars in Riga and the nightlife seemed quite lively, we were drained from the journey (we still have to master the 5 AM awakening), so we went to the supermarket, bought a sandwich and watched a movie back to the hotel. But we made up for it the day after, just bear with us.
Day 2: Riga
Refreshed, we woke up early and we were ready to go. Breakfast at 
Golden coffee
 with scrambled eggs, sausage, bacon and beans for 
6.50 Euros
.
After breakfast, we walked over the bridge to take a few pictures of the huge statue in front of the public library.
It's such a creative statue, with a giant man on one hand and his very little version on the other side of the bench, looking like two weights on a scale.
A local who was hanging around there told us it represents the weight of wisdom making you bigger and better – not sure whether that's the correct interpretation but it suits the environment.
We had lunch at Wok to Walk (not the most authentic, but they've opened in Leeds too and I wanted to try them abroad), and then visited the central market. You can find whatever you want, from souvenirs to local food, from second-hand clothes to vintage music tapes.
Since it's very close to the train station we went to pre-book the train ticket to Cesis, SPOILER ALERT! That will be tomorrow's destination.
Walking through the little roads in the city centre, we found several crafty shops, where we stopped and bought some postcards and tiny handmade souvenirs.
Since it was my birthday, we wanted to celebrate at a restaurant we found online which is called 
Petergailis
, but unfortunately, we turned up without booking and there were no tables available. Luckily, there are about twenty restaurants in that street, so it was easy to find an alternative.
We spent 
61 Euros
 at 
Medus
, having three tapas as a starter, lamb and a meal which I can't remember the name of – but it was good! And not to miss out on anything, apple pie and a 
not-so-healthy marzipan cake with cream
.
Day 3: Verso Cesis
Another early rise on the third day, we had breakfast at the station and jumped on the train. I had a Riga speciality at the Double Coffee (a chain you can see pretty much everywhere): potato pancakes with salmon, whilst Blake had eggs, potato and bacon. These plus two cappuccinos came to 20,30 Euros.
The train is very cheap, but also incredibly slow, so please remember to buy crosswords.
If you are travelling on weekdays when in Cesis it will be possible to rent bikes and take advantage of the cycling lanes spread across the village. We went to the tourist centre as the first thing and we didn't regret it, they offer several maps they update every season with new hiking paths and they have them in more than seven languages.
The main sightseeing is the Medieval castle, in the heart of the village, surrounded by a very scenic garden with statues and pastel-coloured benches.
We walked for about 40 minutes towards a private garden called Svetavots.
Entrance is 3 Euros per person which have to be paid to the lady who lives in the house next to the garden. It is quite nice, but to be honest, we are not sure it's worth it, even though the walk is very relaxing and in nature.
For both lunch and dinner, we stayed in the centre of the village, we had dinner next to the castle, where we had salmon, a deer burger, fries, pavlova, pineapple juice and a cappuccino for 33 Euros. It was delicious, the only downside is that they only accept cash.
Before going to bed, we stopped at Remi (our supermarket of choice), to buy some ingredients so that we could prepare some sandwiches and panini for the following day, since we'll embark on a 14KM walk.
Day 4: Cesis, Englu Klintis
Englu Klintis is a natural which is 14/15KM from Cesis centre. The way to get there is mainly in the woods, flat for the majority of it and with a few steep bits, not so often. We used Google Maps to make sure we were always in the right direction, and we didn't have any issues with the signal at any point, you only need to remember a power pack :).
There are not many indications on the way, so if you don't want to rely on technology, we'd suggest you familiarise with a map and bring that one if you don't want to risk ending up in Denmark.
On the way, we only met another couple and we saw a car from the distance, apart from that it was very peaceful and lonesome.
There are some viewpoints and information boards, where you can read about the story of the place and its evolution.
We walked down the hill to the water level, where you can take some amazing pictures of the cliffs, having lunch on a small DIY wooden bench that some tourists built. Walking back, we stopped at a small lake called Ninieris. Even there, not a single soul was disturbing the peaceful landscape. If anything, a couple of ducks looking for a snack.
Day 5: Kemeri
The train from Cesis to Kemeri was at 10:25, but the ticket shop was still closed when we got there. We used the local train app which worked perfectly, although some screens are not translated to english so you kind have to play a guessing game (and hopefully win it).
In order to get to Kemeri, we had to go through Riga to change trains. The whole journey is around 3 hours.
We stayed at the 
Hotel Kemeri
 for the night, really pretty, with a mountain chalet vibe. It is located two minutes from the train station and it is on the way to the 
Raised Bog
 – the main (and only?) attraction of this village.
April is low season in here, so no restaurants were open and we had to end up in a supermarket once again. It's probably better to visit the place in summer, to enjoy all the facilities.
After the snacks shopping, we started walking to the Raised Bog. Once again, 15KM away more or less, mainly in the woods. You have to cross a few roads in order to get there, which can look a little bit dangerous and not the best if you are travelling with kids. We are pretty sure hotels offer a taxi service in higher season, but that wasn't the case in April.
Once you get to the Bog's starting point, you have to walk on a wooden platform which leans on the spongy layer of fungus, sulphates and overall natural resources. It sounds pretty disgusting, but it's really enjoyable to see and you can breathe some next-level fresh air.
If you walk about 5KM you can get to a small tower which you can climb to see the whole land from the top: it's so worth it! The wind can be incredibly strong up there though, so do not try any wild selfies as you'd probably lose your phone – and your kids!
After the walk, we went back to the hotel for a packed lunch and the morning after we drove back to the airport and flew back to Manchester.