TLDR; Here's the itinerary in case you're not feeling the full, detailed story! Day 1: Bergamo
Piazza Vecchia
Funicolare Città Alta
San Vigilio
Day 2: Milano & Florence
Duomo & Galleria Vittorio Emanuele
Castello Sforzesco & La Triennale
Arco della Pace & Aperitivo sui Navigli
Day 3: Florence
Sunset from Piazzale Michelangelo
Santo Spirito
Cappelle Medicee
Day 4 & 5: Villa Petriolo, Chianti
Relax
Drink Wine
Swim
Day 6: Cinque Terre
Aperitivo at Nessun Dorma in Manarola
Vernazza
Sunset in Riomaggiore
Day 7: Cinque Terre & Pisa
Piazza dei Miracoli
Ponte di Mezzo
Eat Pici all'Aglione
Day 8: Pisa & Home
---
Total spending for two people (hotels excluded): 780 Euros
Day 1: Bergamo
If you're travelling from the UK, most cities (apart from Leeds 😢) fly to Milan Bergamo. Flights are usually relatively cheap as it isn't a very touristy destination. You should definitely make the most out of that, as Bergamo is genuinely stunning (I'm biased, but it's true).
From Orio al Serio Airport, you can take a taxi to Bergamo city centre or catch the shuttle bus, which will drop you off at the Bus Station, which is in the middle of "the new town". Bergamo is divided into the "Upper Town", the medieval, historical part, and the "Lower Town", where most high street shops and offices are.
For an authentic experience, we'd recommend booking a place in Città Alta. Depending on what time you land, you might not have a lot of time to see everything on that day, so here are the top three things you do not want to miss:
Piazza Vecchia: The main square in the medieval town. You can get there by walking through the narrow pebbled roads, looking around and enjoying a pizza from Panificio Tresoldi. It's impossible to resist their mouth-watering selection of goodies.
Funicolare Città Alta: This cable car gives you a unique view of the city, and it's quite a handy way of getting to the top of Bergamo and the next point on this list. The ticket costs 1,30 Euros, and it's valid for 75 minutes.
San Vigilio: The highest point you can reach with the cable car and one of the most romantic places in Bergamo. Sit on the walls and have an ice cream while watching the World go by. Unmissable!
We only had a morning in Bergamo and got the train to Milan, which is only 50 minutes and cost 4,80 Euros. Remember that you must stamp your train ticket before jumping on!
Day 2: Milan & train to Florence
We technically did Bergamo, Milan, and Florence on the same day, but for the sake of this itinerary, we'll assume that you will have a full day in Milan. First, start your day with a cappuccino and dip your croissant in it (you'll never look back), then get going on the points listed below.
By the way, if you need to drop your luggage off after check-out, we used
Bounce
and stopped at the bar, and the owner was incredibly kind and helpful; we even stopped for an aperitivo before our train to Florence.
Anyhow, here we go:
Duomo & Galleria Vittorio Emanuele: This is a masterpiece. I'm not going to lie. It's swamped and touristy, people will try to sell you a selfie stick, and there are A LOT of pigeons, but whenever you step out of the metro and see this wonder in front of your life, it makes it all worthwhile. Take a minute to walk up to the door and lose yourself in the carved details. They're stunning. Looking at the Duomo, you'll see the Galleria on the left. Walk through there with your head up high and take in the architecture, once again, incredible. Don't have lunch around there as the risk of tourist-trap is high!
Castello Sforzesco & La Triennale: We had lunch in the park of the Castle, and it's just a great place to visit. I'm not going to lie, we didn't have a clue about the history of it (shameless), but it's a great place to chill.
Arco della Pace & Aperitivo sui Navigli: At the end of the Castle's park, there's a stunning building which looks like the Arc du Triumph, and at the moment, it's also the home of an enigmatic statue. Do you think the man is pushing the building down, or holding it up? Let us know!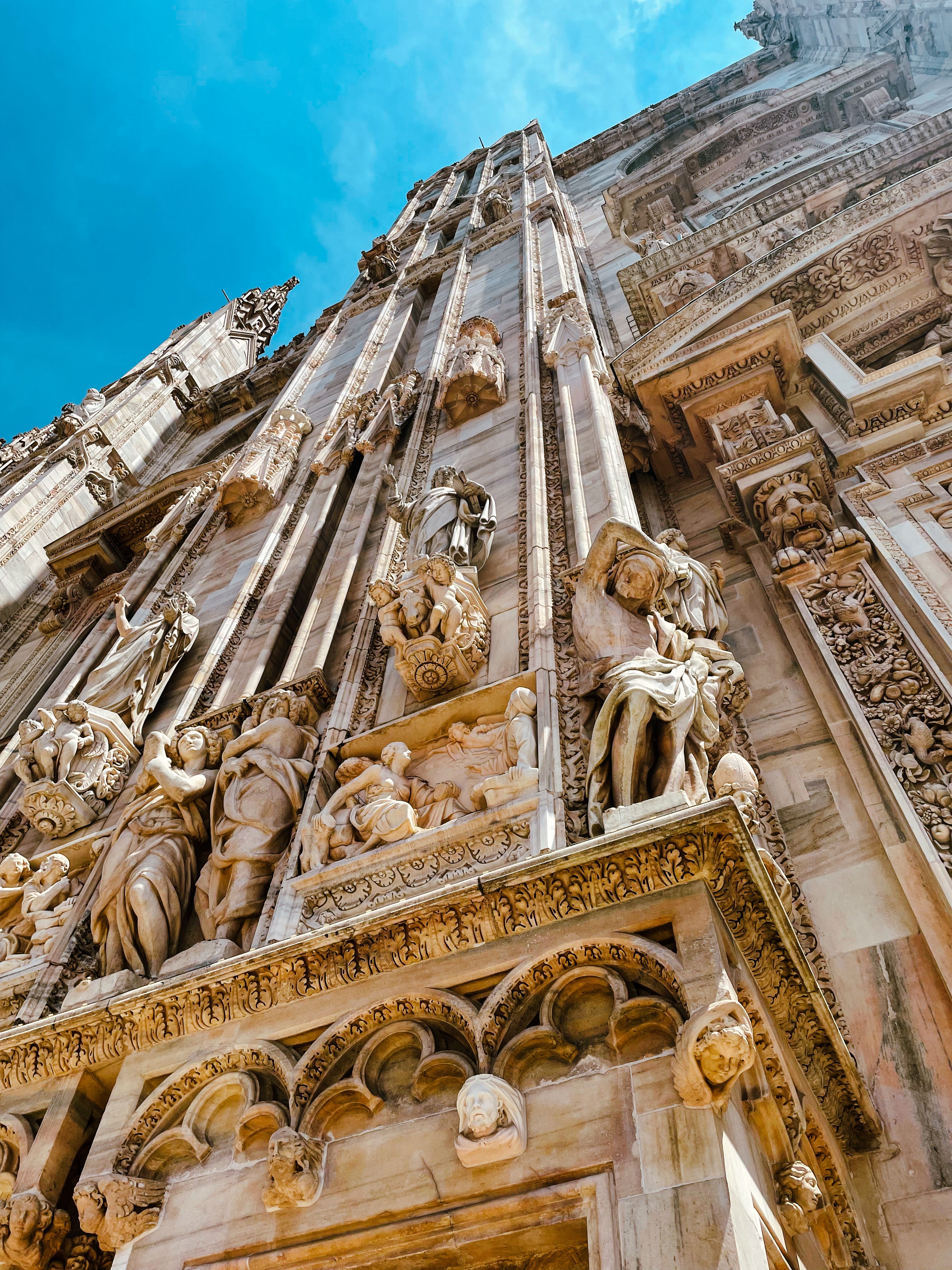 From Stazione Centrale (beautiful, as well), you can get a direct train to Florence for 49 Euros. It takes about 2 hours to get there. We got to Florence at 8:30PM. It was still bright in July, so we walked to Santo Spirito, where we had our AirBnB. I highly recommend staying there as it's a very authentic city area. More on that later!
Day 3: Florence
Top three things:
Sunset from Piazzale Michelangelo: I love this place, and whenever I'm in Florence, I try and stick this one in my plan. The view from the giant staircase is unreal, and if you pop in a supermarket before and buy some beers, you can just enjoy the nature show without getting scammed for a fake spritz or else from the food trucks nearby. The atmosphere is just jolly around there.
Santo Spirito: Every guide you'll read will tell you that this is where "the locals" go. It isn't a secret anymore, so you'll find a few tourists there, too, but the rule still stands. You can find some great places to have a proper Fiorentina, some chill-out cocktails in the square, and if you're as lucky as we were, there will be some live music at the Church gate.
Cappelle Medicee: The Giotto dome is obviously unreal, so this doesn't want to take anything away from its greatness. Although, there's almost often a very long queue, and a lot of people waiting in line or just coming in alongside you. Cappelle Medicee, on the other hand, are just as stunning, but they're not as popular among tourists, so you can see some excellent statues and a breathtaking ceiling without the queue. Perfect if you're short of time!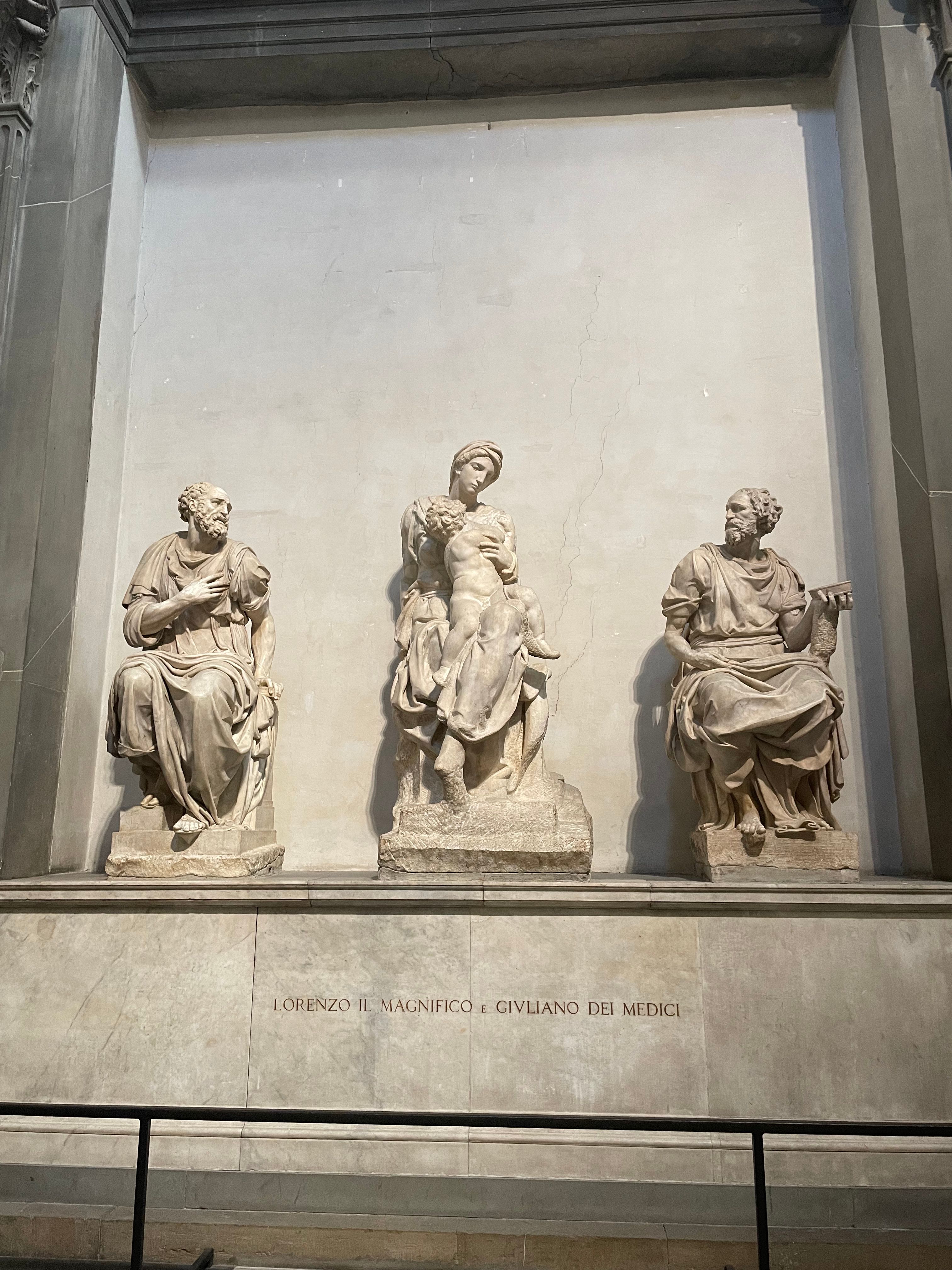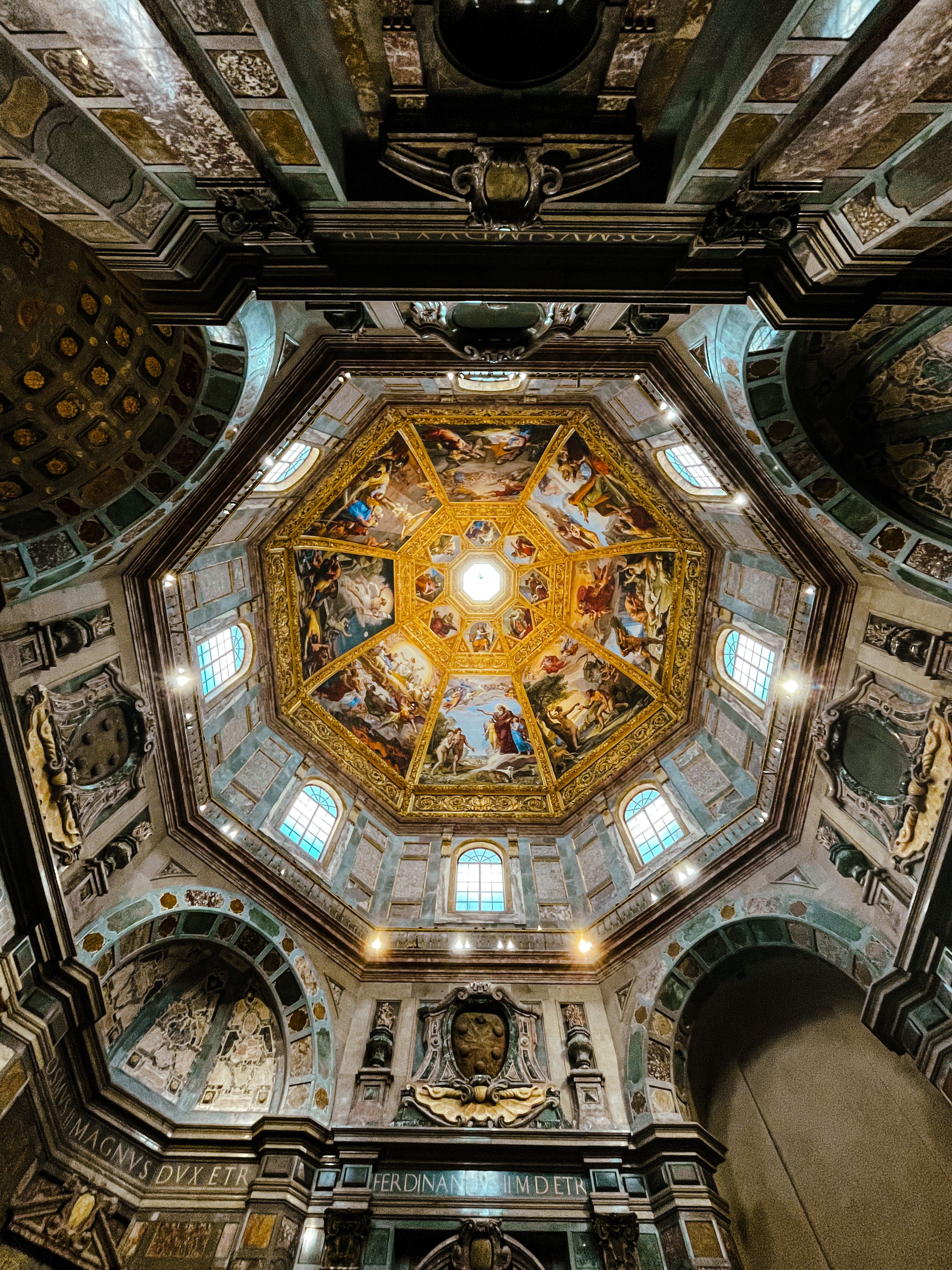 From Firenze Maria Novella, we got the train to Empoli, and we then took a taxi (for 40 Euros) to Villa Petriolo in Cerreto Guidi for our rest n relaxation part of the holiday.
Day 4 & 5: Empoli & Chianti
On the morning of day 4, we got on the train to Empoli and then went to Cerreto Guidi with a taxi we booked in advance for 40 Euros. A little pricey, but there wasn't a convenient alternative way of getting to Villa Petriolo without renting a car. We stayed at Villa Petriolo for two nights. The interior design is curated in every detail, the rooms are enormous, and breakfast (and dinner) is delicious - everything you could ever want from a boutique hotel!
I'm not going to give you any top three as we didn't do anything more than relax, drink, and eat (are these the top three?).
There are three main options to eat at Villa Petriolo, and, in all honesty, they're all quite pricey (in line with the location), so take that into account when booking there! We spent a whopping 250 Euros total for lunch and dinner while we were there.
Day 6: Cinque Terre
Cinque Terre is one of the most beloved Italian destinations for tourists. It's located in the Liguria region and has five towns: Riomaggiore, Manarola, Corniglia, Vernazza and Monterosso al Mare. The villages are connected by trails that allow travellers to hike among vineyards, flower fields and olive groves while enjoying magnificent sea views.
One of my Cinque Terre favourites is Nessun Dorma in Manarola. We had a tasty aperitivo there. Compared to our previous experience, the wait was less painful, thanks to their new app. It's a trendy place, though, so expect some queues. We enjoyed our time at Nessun Dorma. The drinks and service were great, but the best part for me was the bruschetta al pesto (pictured above). PS: If you've read our blog about Cinque Terre, you'll know that we had already been to Nessun Dorma in 2020 for a pesto-making class.
Vernazza is a small fishing village that can be reached by walking for about 45-60 minutes from Monterosso, the first village you arrive in when you take the train from La Spezia. It's one of the most picturesque towns in Cinque Terre, with long stretches of stony beaches and a beautiful castle on top of a hill overlooking the sea. There are no roads, only steep paths and a thousand steps (or at least that's what they felt like!) to reach the houses nestled in the hill, and one can easily get lost in the maze of alleys between them. Focaccia is excellent here, have it.
Riomaggiore is a lively town and a great place to spend an afternoon. A crowd had gathered on the rocks near the harbour to watch the sunset, so we joined them. It was an unmissable experience! Especially if accompanied by a gelato.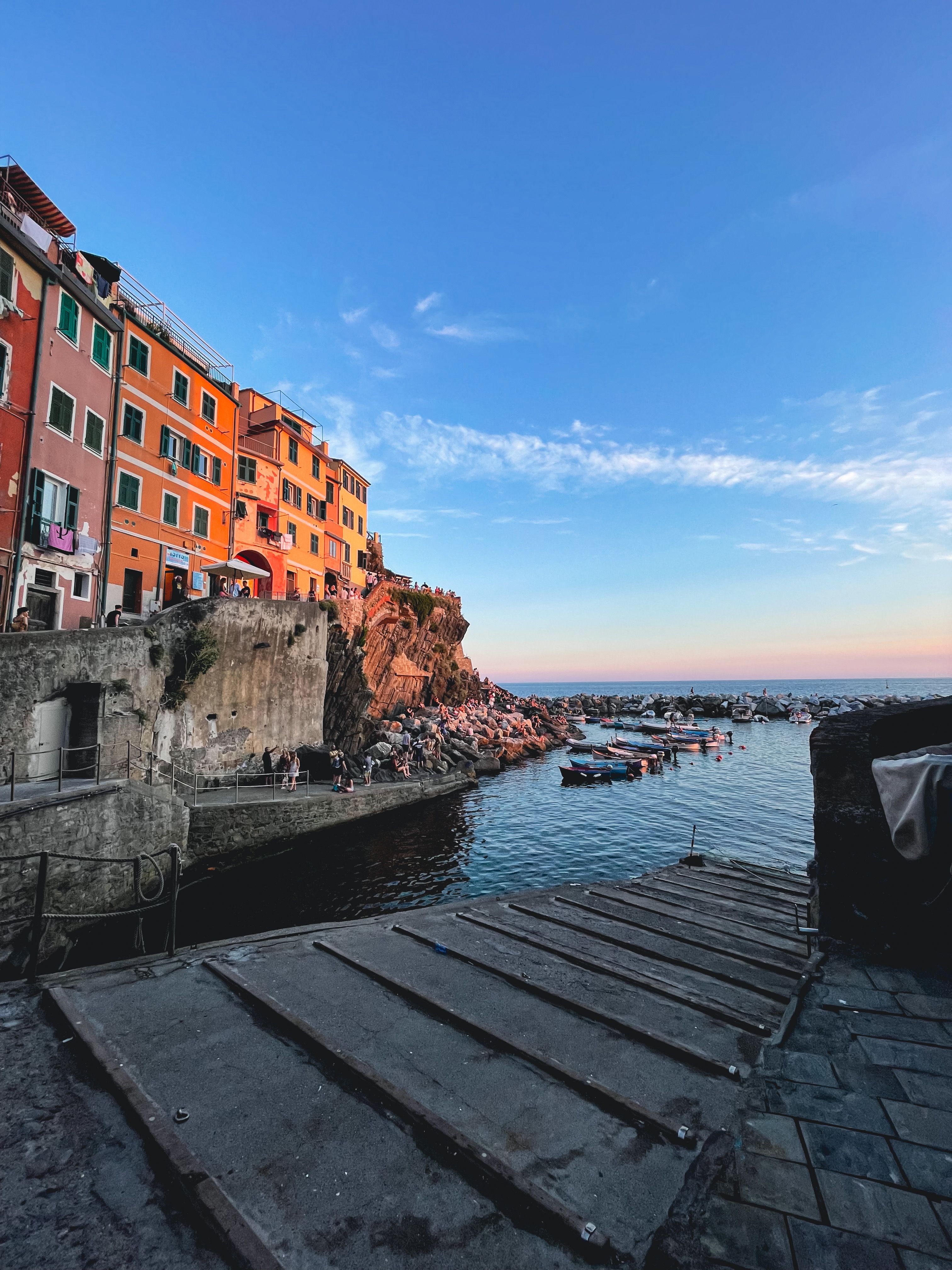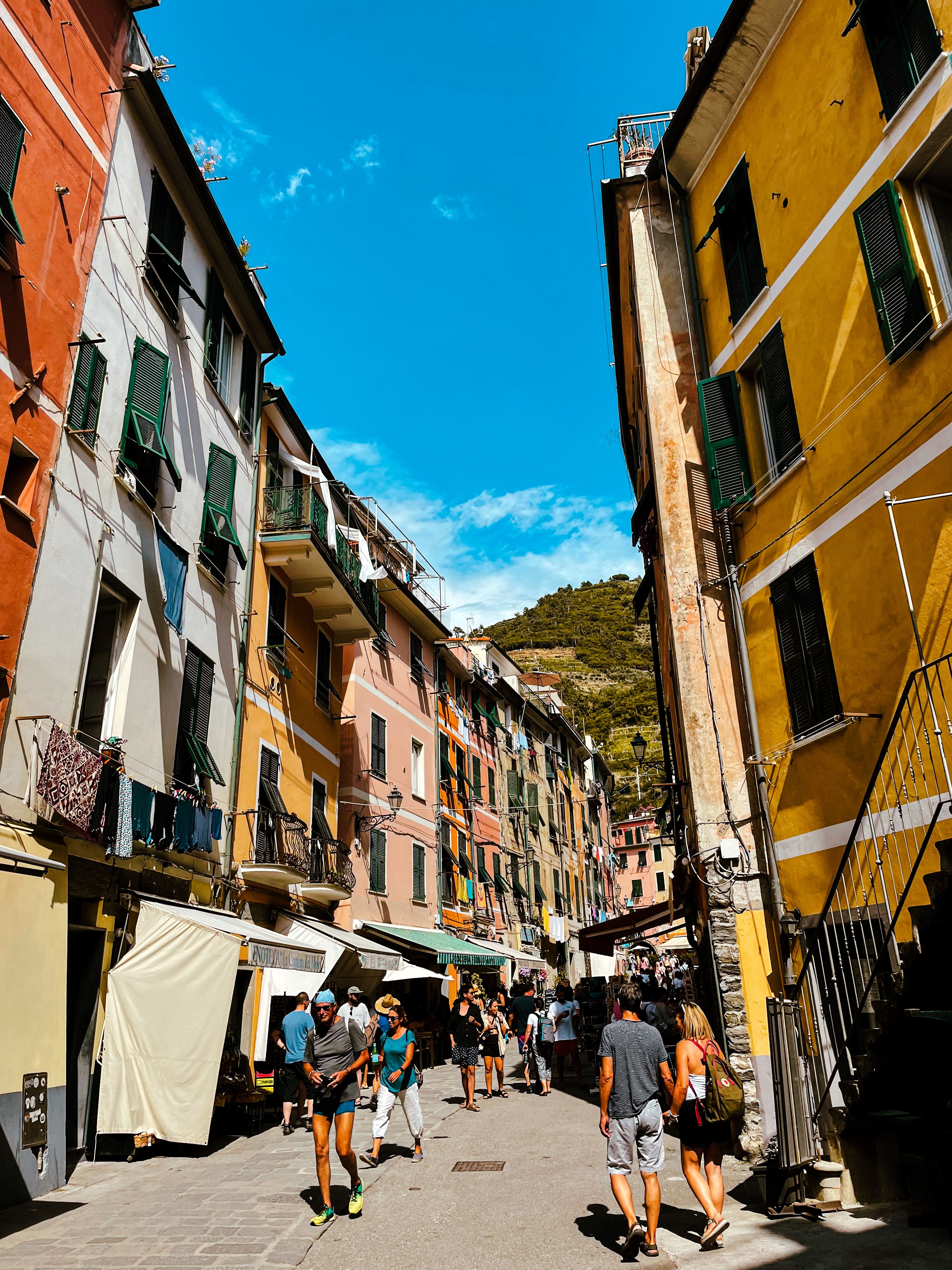 Day 7: Cinque Terre & Pisa
Our hotel in Pisa was OK, it was cheap and comfortable, but one thing that really bothered us was how far it was from the city centre. Luckily Pisa is a small city, and we could get everywhere on foot. We bought the tourist attractions ticket at Piazza Dei Miracoli for 10 Euros each, so we could look at all monuments in the square.
Top three things:
Piazza dei Miracoli: The Leaning Tower is probably the most famous one. It was built on weak ground, so it leans because of its weight. You can climb to the top and enjoy a view of Pisa. The Duomo is another beautiful building. It was built over 800 years ago and has been restored since then. In fact, you may notice that parts of the walls are painted white where they used to be black or something else before restoration work took place!
Walk to Ponte Solferino: another lovely place was Ponte Solferino, a bridge over the Arno river. There are other bridges, but this one has excellent views and is very close to Duomo. The view from the bridge is very picturesque, and it isn't as touristy as the main square, so you can enjoy a relaxing time there.
For a delicious, light lunch, Pici all'Aglione is a perfect choice. This dish combines pasta with tomato and garlic. The taste can be described as creamy and slightly spicy. We were told that it's one of the most popular dishes in Pisa, so we had to try it! Many restaurants serve this exquisite dish (you can even buy it in supermarkets). However, we recommend trying Pici all'Aglione at Osteria del Duomo. Their "Terramisù" is served in a plant pot and is delicious!
Day 8: Pisa & Home